Prepared by Parade Historian: Gary Duncan
The 38th Annual St. Patrick's Day Parade-

With temperatures of 31 degrees, & wind chills of 14 degrees, thousands of people saluted St. Patrick with one of the largest parades in his honor in the nation.

Notable quotes of the day are as follows:

Scranton Police Chief James Klee estimated some 35,000 people lined the streets of downtown Scranton to see the areas most glorious parade. Chief Klee noted that, "this is good (crowd size) considering the temperature."

To quote SPD Lt. Anthony Gisolfi, commander of the police parade detail, "the crowd is just tremendous, it's really spread out the whole length of the parade. It's not just congregated in one or two blocks. The whole length of the parde, there's a large crowd." . "Bambi" Coyle: "There are 10 divisions. When we have the parade, they know spring is coming."

Outside the Scranton Cultural Center at the Masonic Temple, prior to the parade's start, Matthew Butler of the New York City Department of Sanitation Emerald Society Pipe & Drum Band was practicing on his bagpipes. This was the 30 member band's first appearance in the Electric City. Another NYC based band,The Sword of Light Pipe Band of Local 3, IBEW was back for its seventh parade.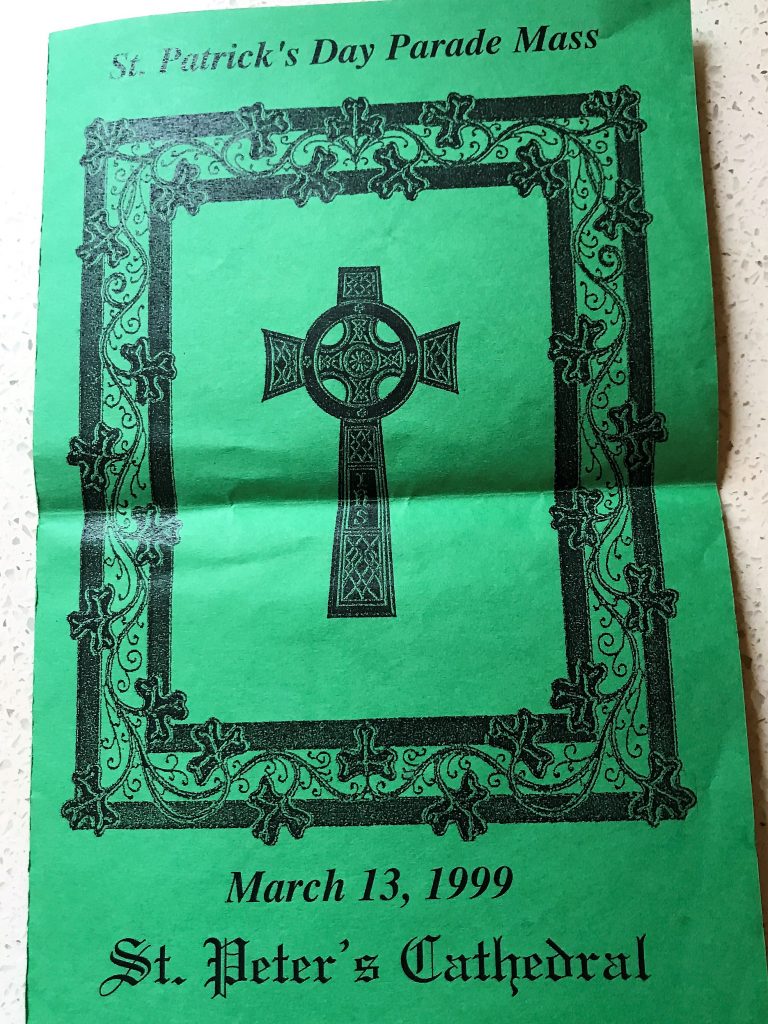 Officials & Honorees:

Grand Marshall: Jack Farrell-Educator & Scranton Prep basketball coach.

Honorary Grand Marshall: Timothy Foley- prominent attorney & president of the Friendly Sons of St. Patrick of Lackawanna County.

Parade Marshall: John Nealon-Retired senior buyer-traffic coordinator for Harris Semiconductor.

Honorary Parade Marshall: Gerald "Gerry" Murray-Teacher/Coach in the SSD for 40 years.
Awards of the Day:

Frank P. Foley Memorial Award: St. Patrick's Theme-Mountain View Hayride

Eugene A. Cusick Jr. Memorial Award: Professional Appearance- Irem Temple

Judge T. Linus Hoban Memorial Award: Patriotic Theme- Marine Corps League

Edmund J. Casey Memorial Award: Historical Theme-O'Malley & Langan

Maurice M. Cawley Memorial Award: Irish Cultural Heritage Theme-Catherine McAuley Center

James J. McGee Memorial Award: Most Beautiful-Tauras Club

Michael E. Cadden Memorial Award: Irish Music-Ladies from Hell Band

T. Carroll McLane Memorial Shamrock Award: Irish Costume-St. Patrick (aka-Jimmy Moran)

John J. Mahoney Memorial Award: Irish Smiles-Local 81, IBEW

Peter Heppler Memorial Award: Irish Dancing-Irish Cultural Society

Jim Eagen Memorial Award: Participation Award-PG Energy-"Irish Picnic"

Peter J. Doyle Memorial Award: Scholastic Award-St. Patrick's School

John J. Corcoran Memorial Award: Founders Award-Friends of the Poor

John "Bruno" Gallagher Memorial Award: Photographer's Choice-Mastrianni Construction